Trading Update
In a further positive sign that rate rises are working to tame inflation CPI rose by 0.3% in July on a monthly basis, with the three month annualised rate now tracking at 2.8%, and back within the RBA's target band of 2-3%.
ASCF Current Targeted Distribution Rates
ASCF High Yield Fund
| 3 Months | 6 Months | 12 Months | 24 Months |
| --- | --- | --- | --- |
| 6.25% | 7.00% | 7.50% | 7.20% |
ASCF Select Income Fund
| 3 Months | 6 Months | 12 Months | 24 Months |
| --- | --- | --- | --- |
| 6.00% | 6.50% | 7.00% | 6.65% |
ASCF Premium Capital Fund
| 3 Months | 6 Months | 12 Months | 24 Months |
| --- | --- | --- | --- |
| 5.85% | 6.00% | 6.50% | 6.20% |
The ABS release of GDP data on Wednesday for the June quarter showed growth at 0.4% and 2.1% on an annual basis indicating that the Australian economy remains resilient in the face of the rate rises experienced since May last year.
The economy still has some pockets of inflation that remain stubbornly high including rents, insurance premiums and electricity prices however it is clear that we are unlikely to see any further rate increases as the full impact of the recent rate increases are only likely to be felt over the course of the next 6 – 9 months.
Whilst the economy is expected to slow further residential property prices continue to remain resilient with a 0.8% increase nationally for August.
Most economists now expect rate cuts likely by mid next year creating a sense of stability which should see business and consumer confidence slowly return.
Whilst there are still some challenges ahead for both the consumer and certain business sectors there is cause for optimism leading into next year particularly as the RBA starts reducing interest rates.
Our loan enquiry levels remain strong and each of our funds' continue to perform extremely well in the current environment, so if you are seeking a capital stable, inflation responsive investment we recommend you consider the current targeted distribution rates on offer to the left.
Monthly Managed Fund Cumulative Growth & Performance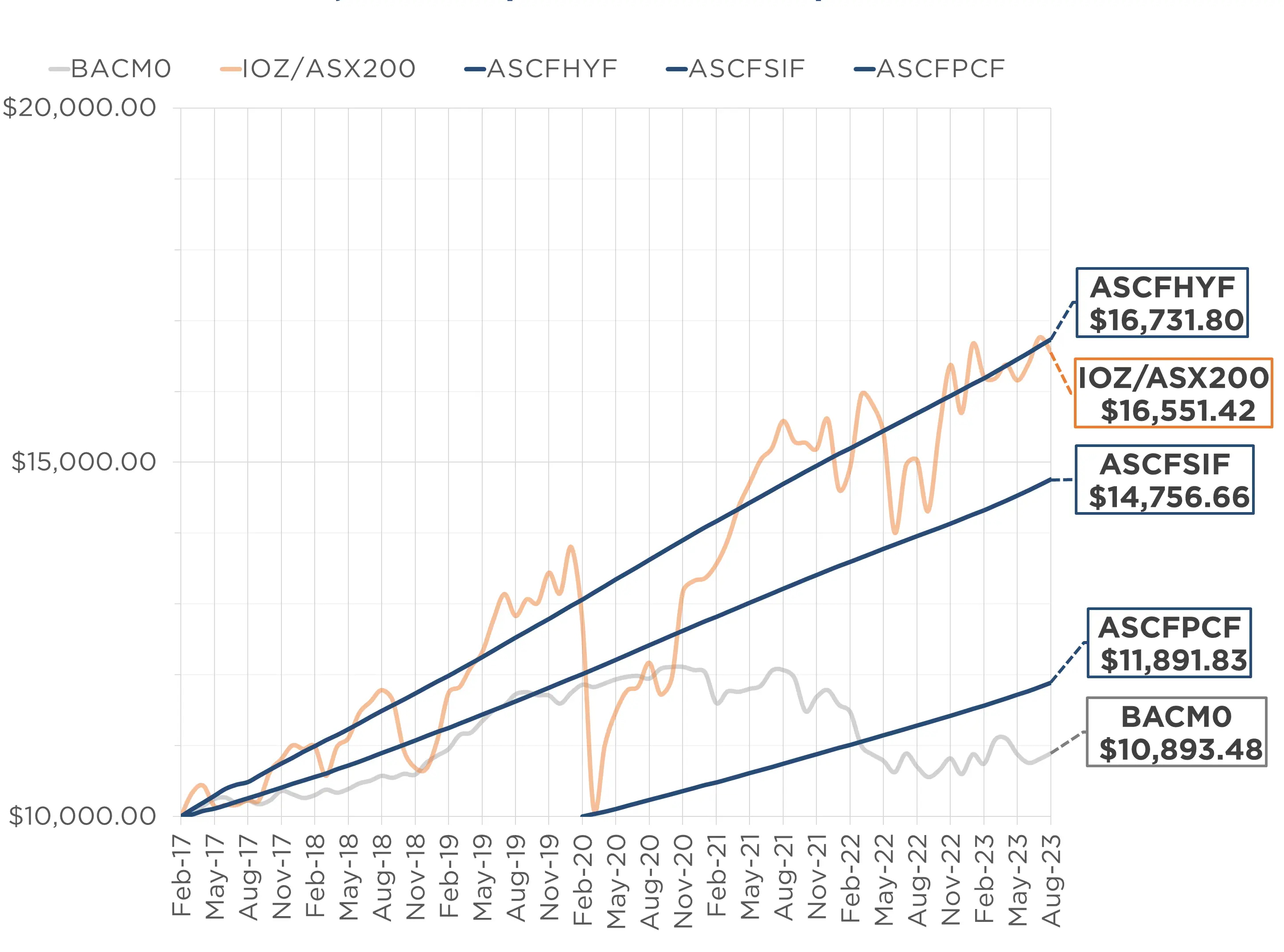 Managed Funds Under Management
as at 31st of August 2023
| | August 2023 |
| --- | --- |
| ASCF High Yield Fund | $131,901,249.97 |
| ASCF Select Income Fund | $44,333,118.73 |
| ASCF Premium Capital Fund | $27,383,353.82 |
| Combined Funds under Management | $203,617,722.52 |
In August, loan originations and inquiry levels remained solid, with $13,290,653.43 in new loan originations settled.
The unit price across all three of our retail funds remains stable at $1.00 per unit.
All monthly distributions have been paid in full for the month of August.
Lending Activity Update
Quarterly Loan Settlements
as at 31st of August 2023

Current Loans by Fund Source
as at 31st of August 2023
| | High Yield Fund | Select Income Fund | Premium Capital Fund |
| --- | --- | --- | --- |
| 1st Mortgage Loans | 84.50% | 100% | 100% |
| 2nd Mortgage Loans | 11.50% | 0% | 0% |
| 1st & 2nd Mortgage Loans | 4.00% | 0% | 0% |
| Avg. Weighted LVR | 58.06% | 60.12% | 44.14% |
| Avg. Loan Size | $1,639,973.60 | $1,206,139.90 | $636,307.48 |
Current Loans Geography
as at 31st of August 2023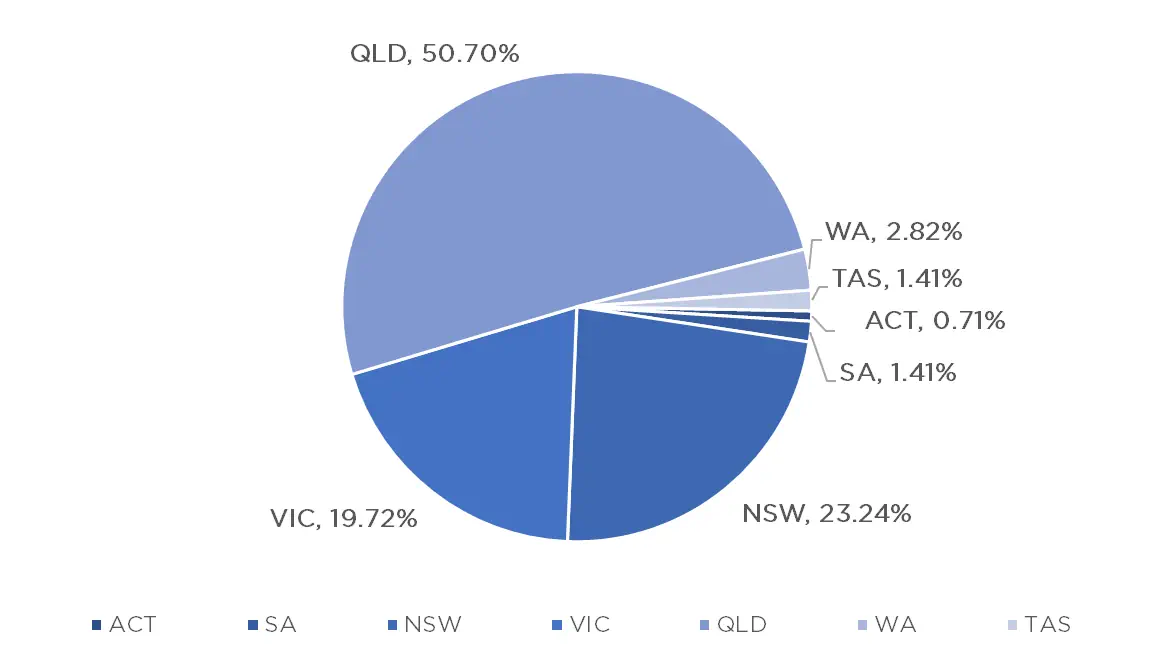 2023 TAX CERTIFICATES NOW AVAILABLE
Tax Certificates for financial year ending 30th June 2023 are available to download via our online portal. If you are not registered for the portal, please contact us on 07 3506 3690 and our friendly team will assist you through the registration process.

Make sure you have the mobile phone associated with your account handy, as it will be needed during the registration process.
Need help?
Please contact us:
[email protected]
07 3506 3690
Monday – Friday 9am – 5pm AEST
Why Invest with ASCF?
This week I had the pleasure of speaking on "The Plot!" with AusBiz where I discussed the range of opportunities our funds can provide for investors. Click below to see the discussion in full.
An Interesting Transaction
Problem:
One of our valued referral brokers introduced a customer to us seeking a sale funding loan of $180,000 to fund the renovation of her unit in Surfers Paradise prior to sale.
Solution:
The customer already had an existing 1st mortgage, so we provided a coded 2nd mortgage loan for a term of 6 months at 18% per annum taking the total LVR across both mortgages to 56.50%.
The customer will complete the renovations, and then sell the renovated property.
What ASCF Does Differently:
Another example of how ASCF is able to help its customers maximise their profits from property sales.
Market Update
The RBA has elected to maintain the current cash rate for the third month in a row, with economists predicting we are at the top of the interest rate cycle. This is a positive sign for Australian property prices, as consumer confidence begins to increase.
The CoreLogic Home Value Index for the month of August is extremely positive, with all capital cities excluding Tasmania recording growth. Brisbane has led the way, with a 1.5% increase for the month, followed by Sydney and Adelaide, both recording a 1.1% increase. Perth, Darwin, Melbourne and Canberra also recording monthly growth of 0.9%, 0.8%, 0.5% and 0.3% respectively. Tasmania was the only capital city which did not experience growth for the month, falling just 0.1%.
Whilst the capital city data was favourable, the regions experienced mixed results, with only regional South Australia, Queensland and Western Australia experiencing growth with 0.9%, 0.8% and 0.1% respectively. Regional Victoria fell the furthest, with a 0.6% reduction, along with New South Wales recording a 0.2% fall. The other regions remained stable.
In a positive sign, property prices have continued to increase despite supply also increasing. The number of auctions taking place continues to increase, with 2,291 auctions taking place on the first weekend of September, up from 1,823 on the same weekend in 2022.
Further bolstering the apparent strength of the Australian property market is that clearance rates also remain high, with a 71.2% clearance rate for the combined capital cities, up from 59.4% from last year. Melbourne and Sydney held the most auctions with 991 and 933 respectively, with Brisbane (159), Adelaide (103) and Canberra (95) well behind. Further behind was Perth and Tasmania recording just 8 and 2 auctions for the weekend.
Adelaide recorded the highest clearance rate of 82.8%, followed by Sydney (73.8%), Melbourne (69.3%) and Brisbane (66.7%) all performing above last years results. Canberra was the only market in which the clearance rate dropped, with 63.6% for the weekend, down from 67.7% last year.
Economists now predict we are at the end of the rate hike cycle and that demand should also increase as consumer sentiment rises on the back of interest rate stability, and the expectation that rates may begin to fall in mid to late 2024.
Clearance Rates & Auctions
Week of the 3rd of September 2023
Property Values
as at 31st of August 2023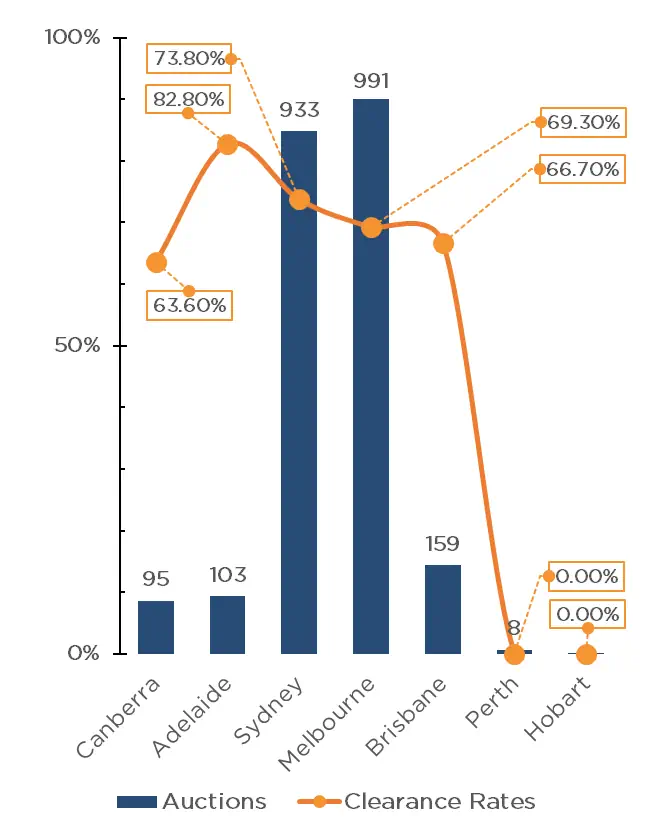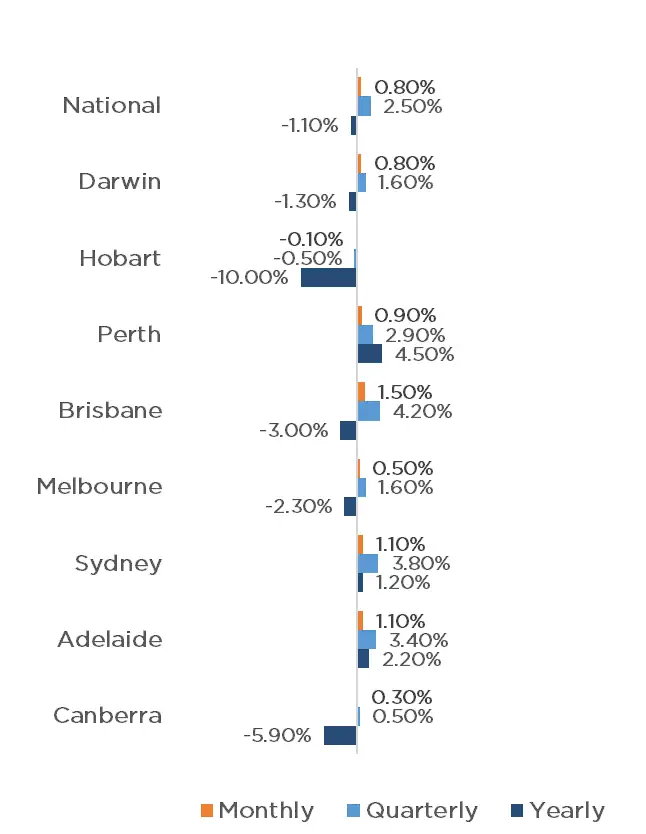 Median Dwelling Values
as at 31st of August 2023

Quick Insights
Bouncing Back
The national housing market valuation has now bounced back to $10 trillion with the increase in stock, some unexpected price recoveries and the RBA's decision to hold rates.
"It's pretty astounding to see the total housing value hit $10 trillion in just 14 months, which reflects the resilience of the market despite a cost-of living crisis, low consumer sentiment levels and four increases in the cash rate so far this year amid the fastest rate hiking cycle on record" said Eliza Owen, CoreLogic head of research.
Source: Australian Financial Review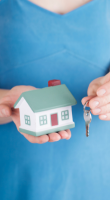 Yes! In My Backyard!
An astonishing and impossible new alliance has formed in NSW comprising NSW universities, two Labor-backed unions, and the state's peak business lobbying association.
The group is called Housing Now!, and it aims to pressure the government to pursue more housing developments in often forgotten and undervalued areas such as along train lines.
They also aim to loosen some of the council-level restrictions around zoning and wait times for development applications.
Source: Australian Financial Review