Trading Update
The RBA's decision last week to leave rates on hold has further confirmed that they believe they have done enough to rein in inflation.
This was reinforced by the June quarter's inflation data which came in at 6% on an annual basis down from 7% in March and 7.8% in the December quarter.
The RBA forecasts released last Friday now expect headline inflation to be 4.1% by the end of the year and 3.3% by December 2024.
However, consumer confidence remains at GFC lows and the retail sales data announced by the Australian Bureau of Statistics last Thursday post the RBA decision showed retail goods and services consumption continued to fall in the June quarter by 0.5% after falling by 0.8% in the March quarter.
The RBAs decisive stance to rein in inflation by increasing rates by 4% over a historically short 14-month period will no doubt impact consumers further, with much of the pain likely being felt over the next 6 – 9 months due to the lag effect between rates rising and their impact on the economy.
ASCF Current Targeted Distribution Rates
ASCF High Yield Fund
| 3 Months | 6 Months | 12 Months | 24 Months |
| --- | --- | --- | --- |
| 6.25% | 7.00% | 7.50% | 7.20% |
| +0.15% | +0.25% | SAME | SAME |
ASCF Select Income Fund
| 3 Months | 6 Months | 12 Months | 24 Months |
| --- | --- | --- | --- |
| 6.00% | 6.50% | 7.00% | 6.65% |
| +0.15% | +0.25% | SAME | SAME |
ASCF Premium Capital Fund
| 3 Months | 6 Months | 12 Months | 24 Months |
| --- | --- | --- | --- |
| 5.85% | 6.00% | 6.50% | 6.20% |
| +0.25% | SAME | SAME | SAME |
As a consequence, we expect inflation to be back to or close to 3% by the March 2024 quarter with no further interest rate increases likely, thereby providing some much-needed certainty to bolster businesses and consumers.
More importantly, we expect to see the first of several rate reductions by early to mid-2024 with some economists expecting a full 100bps or 1% in rate reductions during the course of 2024.
Whilst this may be overly optimistic, we believe at least two rate reductions are likely during the course of 2024 with further reductions in 2025.
In summary, the RBA is done, and inflation should be back within the 2% – 3% target earlier than they expect, paving the way for rate reductions in 2024.
With the core themes of low unemployment and overseas migration continuing, property markets should continue to remain stable during 2023, although we are unlikely to see the same level of increases we have seen over the last several months since the market bottomed in February this year.
However, one would expect some cause for optimism in property markets during 2024 as rates start coming down.
We are pleased to advise that due to the ongoing strong level of loan inquiries and interest expansion on our lending products we will be increasing our investment rates across all 3 month terms and the 6 month terms in our High Yield and Select Income funds.
The rates payable in our ASCF Private Fund remain the same and this fund is open for investment to sophisticated and wholesale investors.
Our new distribution rates are displayed to the left.
Monthly Managed Fund Cumulative Growth & Performance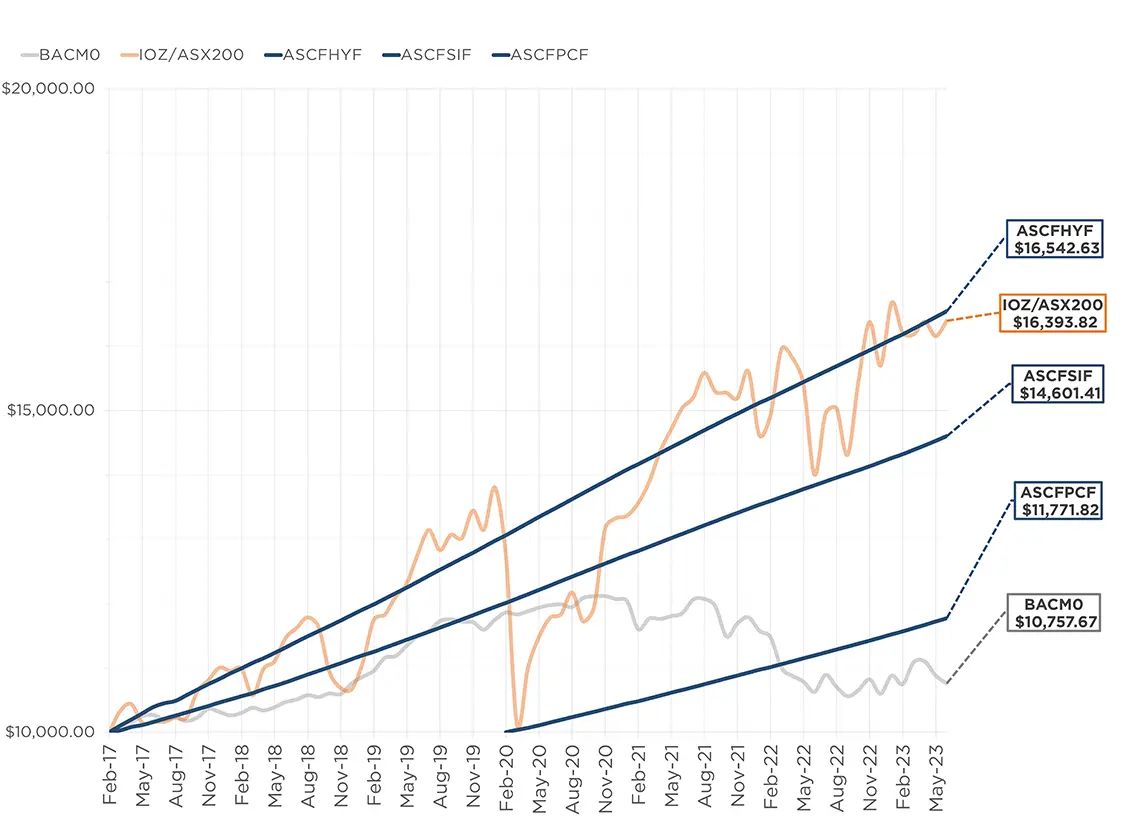 Managed Funds Under Management
as at 31st of July 2023
| | July 2023 |
| --- | --- |
| ASCF High Yield Fund | $118,786,740.56 |
| ASCF Select Income Fund | $44,306,118.73 |
| ASCF Premium Capital Fund | $27,813,353.82 |
| Combined Funds under Management | $190,906,213.11 |
In July, loan originations and inquiry levels remained solid, with $13,600,567.60 in new loan originations settled.
The unit price across all three of our retail funds remains stable at $1.00.
All monthly distributions have been paid in full for the month of July.
Lending Activity Update
Quarterly Loan Settlements
as at 31st of July 2023

Current Loans by Fund Source
as at 31st of July 2023
| | High Yield Fund | Select Income Fund | Premium Capital Fund |
| --- | --- | --- | --- |
| 1st Mortgage Loans | 84.58% | 100% | 100% |
| 2nd Mortgage Loans | 11.79% | 0% | 0% |
| 1st & 2nd Mortgage Loans | 3.63% | 0% | 0% |
| Avg. Weighted LVR | 56.14% | 59.78% | 46.44% |
| Avg. Loan Size | $1,584,564.93 | $1,124,805.70 | $672,723.37 |
Current Loans Geography
as at 31st of July 2023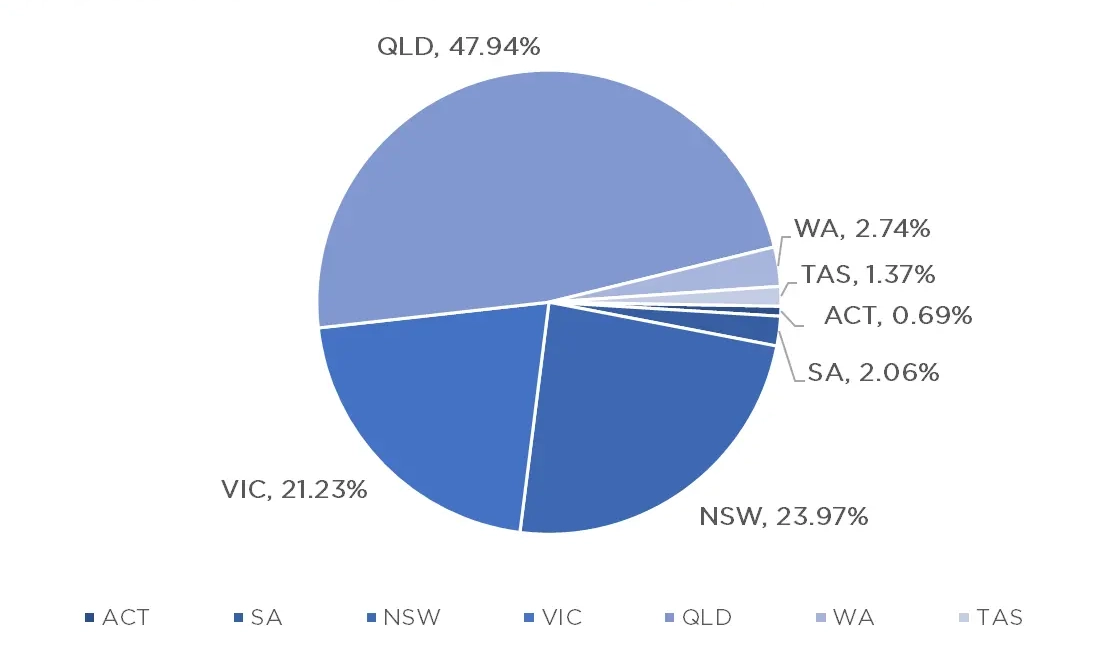 2023 TAX CERTIFICATES NOW AVAILABLE
Tax Certificates for financial year ending 30th June 2023 are available to download via our online portal. If you are not registered for the portal, please contact us on 07 3506 3690 and our friendly team will assist you through the registration process.

Make sure you have the mobile phone associated with your account handy, as it will be needed during the registration process.
Need help?
Please contact us:
[email protected]
07 3506 3690
Monday – Friday 9am – 5pm AEST
Why Invest with ASCF?
In today's unpredictable financial landscape, making wise investment decisions is more critical than ever. The key to a secure financial future lies in diversifying your portfolio with stable and reliable assets. One such avenue that offers stability and consistent returns is a Pooled Mortgage Fund. In this article, we will delve into the benefits of investing in our Pooled Mortgage Funds, highlighting their steady income potential and role in creating a robust investment strategy.
Stability in Uncertain Times
Volatility in financial markets can cause sleepless nights for investors. However, a Pooled Mortgage Fund presents an oasis of stability amidst the turbulence. Unlike other investment options, our funds invest in Registered Mortgage backed, securities which have a fixed rate of return. This inherent stability helps to protect your capital and shield it from the day-to-day market fluctuations.
Reliable Income Generation
One of the most appealing aspects of Pooled Mortgage Funds is their ability to generate a steady income stream. The underlying mortgages typically pay monthly interest, which adds to the fund's overall income. This consistent income is ideal for anyone seeking regular cash flow without worrying about market conditions.
Preserving Capital
Preserving capital is a core objective for most investors, and our Pooled Mortgage Funds excel in this aspect. With all investor capital secured by registered mortgages over Australian real property, the funds' aim to safeguard your initial investment while providing a predictable return. This conservative approach ensures your hard-earned money is not exposed to unnecessary risks and maintains its value over time.
Diversification Benefits
A well-diversified investment portfolio is essential to mitigate risks and achieve long-term financial goals. Including a Pooled Mortgage Fund in your investment mix provides diversification, as its performance is less correlated with equities and other volatile assets. This strategic diversification can help protect your overall portfolio during market downturns while still allowing you to benefit from a steady income stream.
Professional Management
Our Pooled Mortgage Funds are managed by a team of seasoned financial experts with a deep understanding of mortgages and Real Estate. Their expertise allows them to carefully select the lowest risk mortgage-backed loans and to constantly monitor the funds' performance. This active management ensures that your investments are in safe hands and optimises returns within the scope of the fund's mandate.
Conclusion
In conclusion, our Pooled Mortgage Funds offer a compelling investment opportunity for investors seeking stability, steady income, capital preservation, and diversification in their portfolios. With a conservative approach and professional management, mortgage funds align perfectly with financial goals, whether you're saving for retirement, a major purchase, or simply securing your future.
Investing in our Pooled Mortgage Funds is not just about making your money work for you; it's about ensuring peace of mind and safeguarding your financial future. Take the first step towards financial security by investing in our Pooled Mortgage Funds today. Investments can be made in your individual name, a Trust or Company and/or Self-Managed Super Funds. Remember, wise investments today pave the way for a prosperous tomorrow. Invest better, invest with ASCF.
An Interesting Transaction
Problem:
A broker approached ASCF with a borrower who needed to urgently complete an off-the-plan purchase. The borrower had previously passed a mainstream lender's servicing requirements but with the recent increases to the lender's sensitivity rate they could no longer service the required loan amount to complete settlement.
Solution:
ASCF was able to provide the necessary net loan amount to complete settlement by relying on the figure provided in the valuation report which was higher than the contract price from two years prior.
Further, because the borrower intended to immediately re-list the property for sale, ASCF was able to retain the interest for the term of the loan meaning a servicing test was no longer required. ASCF provided a gross loan amount of $325,000 at 11.95% pa being 65% of the valuation over a six-month term with all interest retained for the term.
The sale of the property will repay the ASCF loan.
What ASCF Does Differently:
ASCF adopts a pragmatic approach to borrowers financial requirements and is the lender of choice for borrowers in need of an urgent settlement.
Market Update
In a positive sign for Australian property prices, the RBA has elected to keep the cash rate on hold for the second consecutive month, suggesting that interest rates may have peaked, or at a minimum, are close to peaking.
The CoreLogic Home Value Index shows that property values experienced growth across all capital cities except for Canberra (-0.1%) for the month of July, with Brisbane and Adelaide performing strongest with 1.4% monthly growth. Perth (1%), Sydney (0.9%) Melbourne (0.3%) and Darwin (0.3%) also received strong monthly growth.
These strong monthly results have lead to all capital cities now recording positive growth for the quarter. The regions have not performed as strongly, with only regional South Australia (1.1%) and Queensland (0.7%, primarily driven by strong growth on the Gold Coast) recording growth for the month, with Victoria (-0.4%), Western Australia (-0.3%) and Tasmania (-0.1%) experiencing a reduction in value.
In a sign of slowly increasing supply, Auction numbers for the last weekend of July were above those of the same weekend last year, with 1,961 auctions taking place, up from 1,913 in 2022. This was predominantly due to strong auction numbers in Melbourne (846, up from 809) and Sydney (760, up from 624), however Brisbane (174), Adelaide (113), Canberra (53) and Perth (14) were not far off last year's results.
Despite the number of auctions increasing, clearance rates remain strong, suggesting buyers and sellers are "on the same page" in regards to property price expectations. Adelaide (82.8%) leads the way, followed by Sydney (72.4%), Canberra (70.6%), Melbourne (69.9%) Brisbane (58.3%), contributing to a weighted average clearance rate of 70.2% for the weekend, well above the 54% result of the previous year.
Clearance Rates & Auctions
17th June – 23rd of July 2023
Property Values
as at 1st of August 2023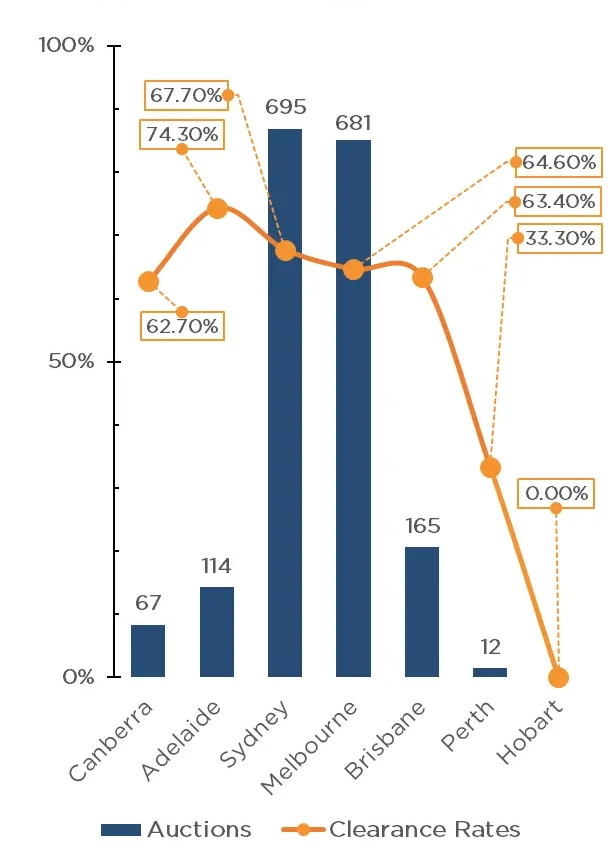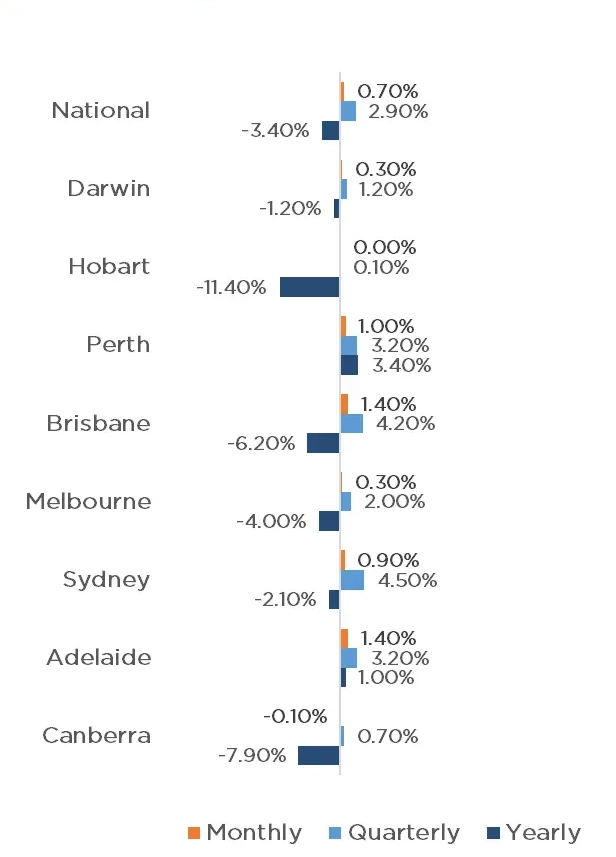 Median Dwelling Values
as at 1st of August 2023

Quick Insights
Way High Westpac
According to Westpac's latest forecast, Sydney house prices are expected to rise as much as 10% this year, propelled by surging migration, a tight rental market and scant housing supply.
Sydney prices are anticipated to gain another 6% in 2024, and 4% in 2025. Perth is expected to achieve the second strongest growth, with an 8% gain this year, followed by Brisbane with 6% and Melbourne prices at 4%, said Westpac senior economist Matthew Hassan.
Source: Australian Financial Review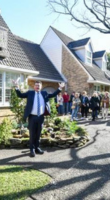 The Harborside Home
David Waterhouse, the estranged member of the famous racing clan, has sold his iconic harborside home Villa Biscaya for about $28 million.
Designed by prominent architect Alan Edgecliff Stafford in 1929, the three-bedroom home features a grand stone staircase flanked by wrought-iron balustrades.
The sale comes just three years after the former art dealer and options trader paid $10.25 million, almost tripling the purchase price.
Source: Australian Financial Review