Trading Update
Last week's decision by the RBA to maintain rates on hold was as expected despite the slight uptick in annual inflation to 5.2% in the year to August from 4.9% in July.
However, with the world geo-political environment looking more tenuous after the weekend's events in Israel and the price of oil spiking as a consequence, we do expect the RBA to be even more cautious moving forward.
ASCF Current Targeted Distribution Rates
ASCF High Yield Fund
| 3 Months | 6 Months | 12 Months | 24 Months |
| --- | --- | --- | --- |
| 6.25% | 7.00% | 7.50% | 7.20% |
ASCF Select Income Fund
| 3 Months | 6 Months | 12 Months | 24 Months |
| --- | --- | --- | --- |
| 6.00% | 6.50% | 7.00% | 6.65% |
ASCF Premium Capital Fund
| 3 Months | 6 Months | 12 Months | 24 Months |
| --- | --- | --- | --- |
| 5.85% | 6.00% | 6.50% | 6.20% |
The increase in oil prices will inevitably be felt at the petrol pump by consumers and add to inflation, but will it add pressure to the RBA to increase rates?
We actually think the impact will be marginal, and that the increase may actually result in acting as deflationary as consumers will be forced to spend more on fuel, thereby leaving them less money to spend on other items.
With more than 50% of fixed-rate mortgages now having reset to variable, the inevitable mortgage cliff has also yet to eventuate, with property prices across the country holding up extremely well. This is largely due to a lack of supply in most capital cities.
The wage increases we have seen across most industries during the last 18 months certainly seem to have cushioned the impact of increased mortgage payments.
The structural undersupply in housing and net overseas migration continue to support property prices and if interest rates do start coming down next year we could actually see prices surpass the post-Covid highs we saw in early 2022.
At this stage, our view remains much the same as last month, with rates likely to remain at these levels until mid-next year as inflation reduces back to the RBA's target of 2% – 3% between now and then. We then expect rates to decrease by between 50 and 100 basis points by the end of 2024.
Interestingly we are already seeing some banks start to reduce 2-year fixed rate mortgage loans.
Our investor rates remain the same as last month so if you are looking for a low volatility inflation responsive investment we do believe the 12-month rate in our ASCF High Yield fund is worth considering.
Monthly Managed Fund Cumulative Growth & Performance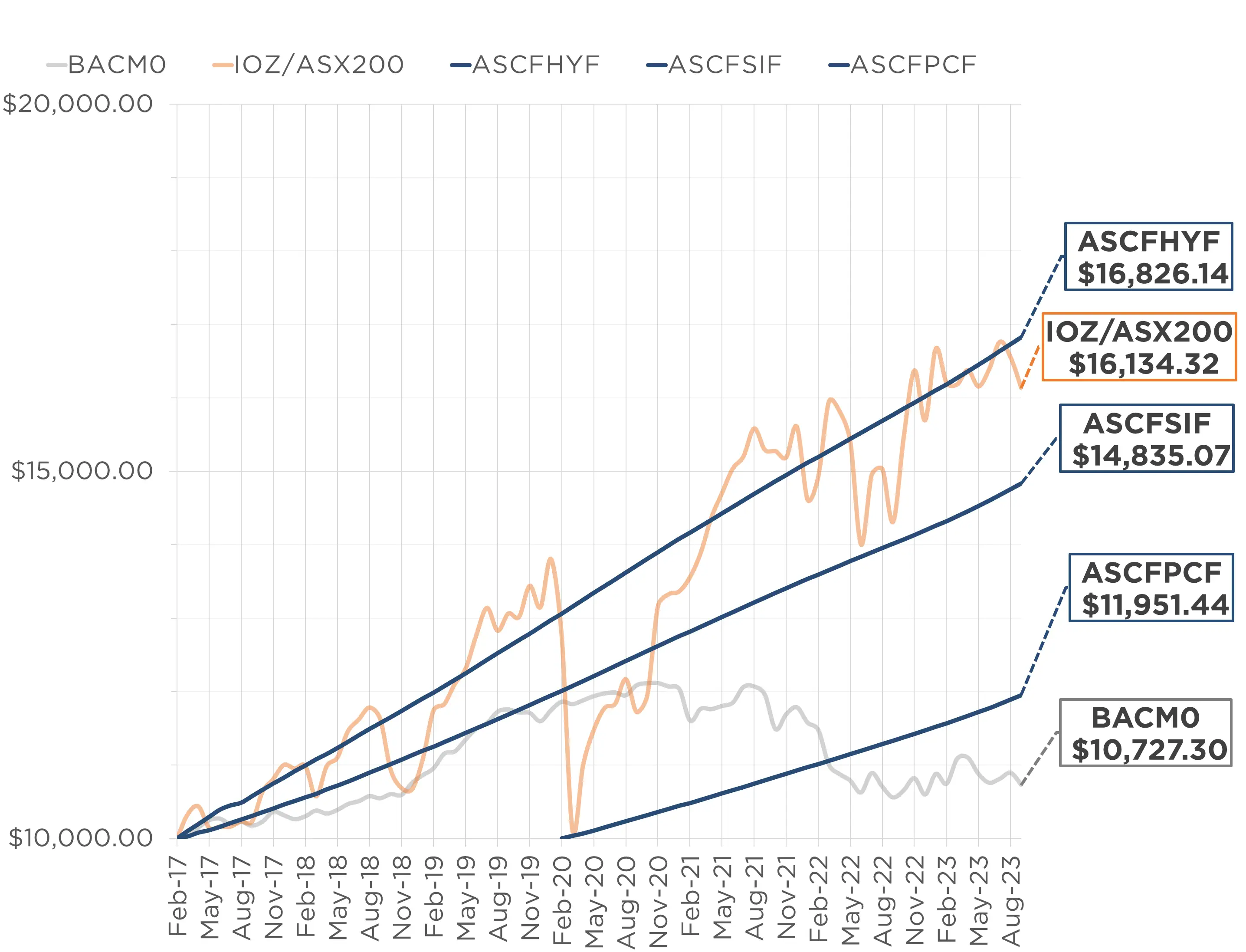 Managed Funds Under Management
as at 30th of September 2023
| | September 2023 |
| --- | --- |
| ASCF High Yield Fund | $127,703,821.97 |
| ASCF Select Income Fund | $44,242,118.73 |
| ASCF Premium Capital Fund | $27,211,353.82 |
| Combined Funds under Management | $199,157,294.52 |
In August, loan originations and inquiry levels remained solid, with $14,003,880.72 in new loan originations settled.
The unit price across all three of our retail funds remains stable at $1.00 per unit.
All monthly distributions have been paid in full for the month of September.
Lending Activity Update
Quarterly Loan Settlements
as at 30th of September 2023

Current Loans by Fund Source
as at 30th of September 2023
| | High Yield Fund | Select Income Fund | Premium Capital Fund |
| --- | --- | --- | --- |
| 1st Mortgage Loans | 84.26% | 100% | 100% |
| 2nd Mortgage Loans | 12.52% | 0% | 0% |
| 1st & 2nd Mortgage Loans | 3.22% | 0% | 0% |
| Avg. Weighted LVR | 58.77% | 58.68% | 44.26% |
| Avg. Loan Size | $1,575,556.63 | $1,156,665.32 | $656,177.42 |
Current Loans Geography
as at 30th of September 2023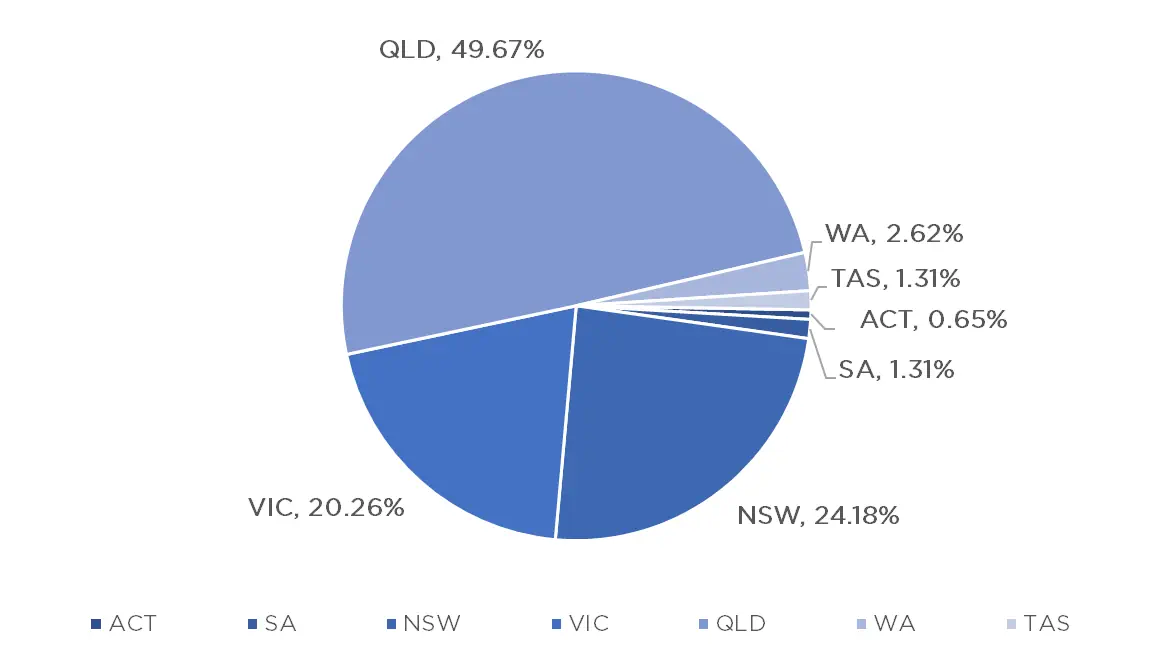 YEARLY AUDITED FINANCIALS ARE NOW ONLINE
We are pleased to advise that ASCF's full year audited 2023 Financial Statements and Compliance Audit Reports for ASCF Premium Capital Fund, ASCF Select Income Fund and ASCF High Yield Fund are now available to download from our website.
You can view the financials by clicking here.
Should you have any questions in relation to the financials, please do not hesitate to contact our Investor Relations team on 1300 269 419.
2023 TAX CERTIFICATES NOW AVAILABLE
Tax Certificates for financial year ending 30th June 2023 are available to download via our online portal. If you are not registered for the portal, please contact us on 07 3506 3690 and our friendly team will assist you through the registration process.

Make sure you have the mobile phone associated with your account handy, as it will be needed during the registration process.
Need help?
Please contact us:
[email protected]
07 3506 3690
Monday – Friday 9am – 5pm AEST
Why Invest with ASCF?
If we had to describe in two words or less what investors appreciate most about an investment with ASCF its pretty simple, capital preservation.
Since inception in 2016 no investor has ever lost a cent in any of our funds and all the targeted rates of return on offer across all our funds has been paid in full and on time.
Its a record the we are very proud of and a reputation we have built on a solid business model and multi decade industry expertise in both banking and property.
The low volatility or actually zero volatility nature of our funds is appealing to investors who are unable to deal with the daily fluctuations in equities from investing on the ASX or overseas markets.
Our returns are stable and inflation responsive and on a risk adjusted basis we believe our investment options across of each of our funds are compelling particularly our High Yield Fund which is currently offering a 7.5% return for a 12 month investment.
Whilst past performance is not indicative of future performance, our track record speaks for itself as evidenced by our 2023 full year audited financials which you can view on our website or by clicking here.
An Interesting Transaction
Problem:
One of our valued referrers presented a borrower to us seeking urgent funding to assist with the purchase of a rural block of land in Goodwood QLD.
Solution:
We offered a tailored solution to the borrower secured by a first mortgage over the property being purchased along with a second mortgage over a home in West End, Brisbane. The loan was for $1,300,000 at an LVR of 48.45% for a 6 month term at 15% p.a.
The customer intends to refinance through their bank.
What ASCF Does Differently:
Another example of how ASCF is able to meet the time critical demands of its customers and help them execute on their plans.
Market Update
The first weekend of October saw the number of auctions decline significantly on the previous week (1215, down from 2,648), as is common on long weekends, caused by the AFL Public Holiday and the King's Birthday. Sydney recorded the most auctions of the capital cities, with 730 taking place, followed by Melbourne and Brisbane with 203 and 110 respectively. Adelaide and Canberra just missed out on triple digit figures, with 83 and 74 respectively, whilst just 13 and 2 auctions occurred in Perth and Tasmania respectively.
Whilst the number of auctions declined for the week, clearance rates remained strong at 70.3% across the combined capitals (up from 59.7% last year). This was driven by Adelaide, Sydney and Brisbane all recording above 70% clearance rates with 79.3%, 71.7% and 70.7% respectively. Melbourne and Canberra also had moderate clearance rates of 66.0% and 62.5% respectively.
The property market continued to grow yet again with a 0.8% rise for the month of September, taking quarterly growth to 2.2%. Adelaide experienced the largest monthly growth of 1.7%, followed by Brisbane and Perth with 1.3% each. Sydney, Melbourne, Canberra and Darwin all experienced growth with 1%, 0.3%, 0.2% and 0.1% respectively, whilst Hobart was the only capital city to fall in September with -0.6%.
Quarterly data is similar, again with Adelaide leading the way (4.3%), closely followed by Brisbane (3.9%), Perth (3.6%) and Sydney (2.5%). Melbourne and Darwin both increased 1.3% for the quarter, with Canberra at 0.4%. Again, Hobart is the only capital to not experience growth, falling by 0.2% for the quarter.
Whilst many economists predicted a softening in property prices in the later stages of 2023, dwelling values have remained strong. As we head into the spring and summer selling season, we may see supply increase slightly but the market remains extremely tight.
Clearance Rates & Auctions
Week of the 3rd of October 2023
Property Values
as at 2nd of October 2023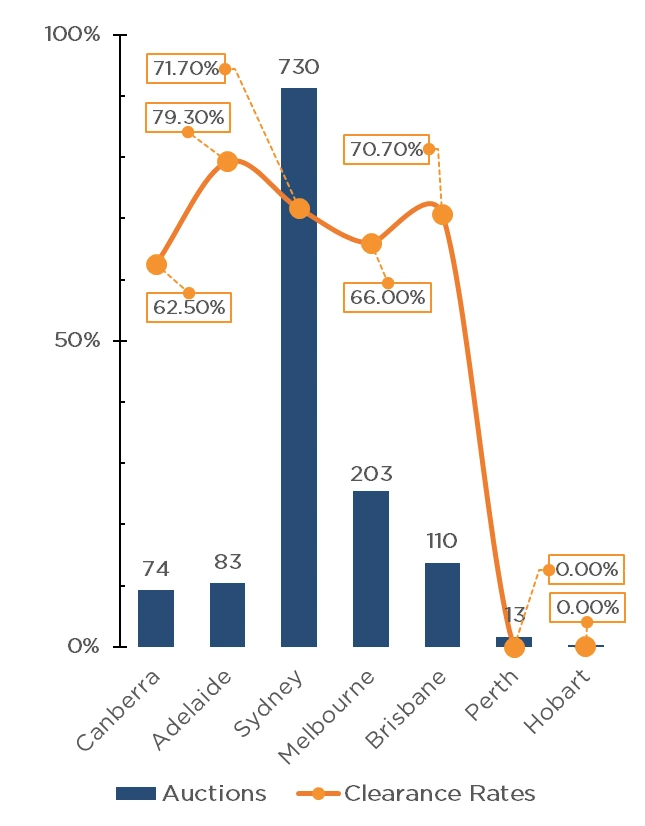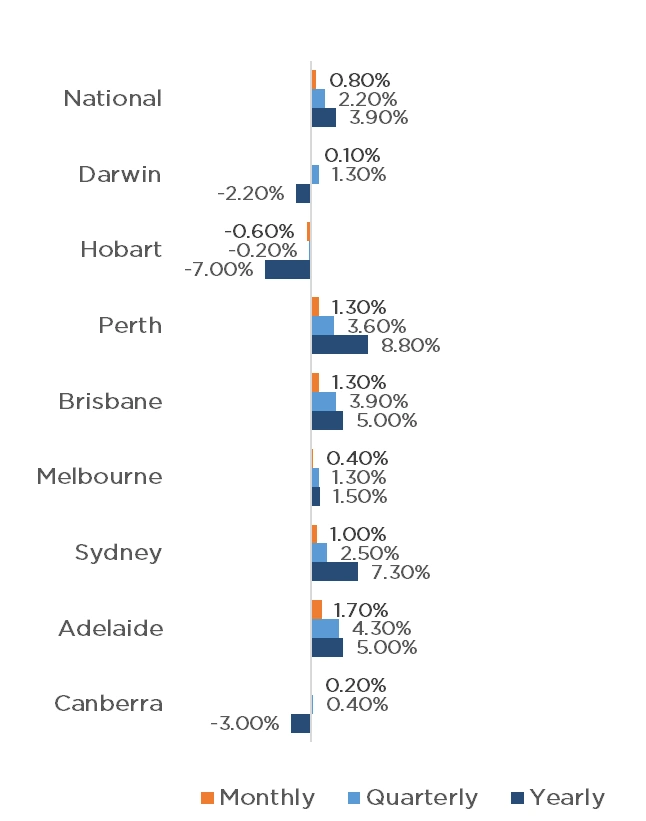 Median Dwelling Values
as at 2nd of October 2023

Quick Insights
Higher Blocks Means Lower Costs
In defiance of its own planning rules and legislation a local council in Melbourne has intervened to approve another two extra storeys on an apartment building development. The move was done under pressure to triple the proportion of affordable housing the development might offer.
As the urgency of a tight rental and housing market continues to grow we may very well be seeing similar occurrences throughout the capitals as local councils realise they have a role to play.
Source: Australian Financial Review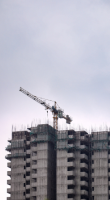 Vacancy Latency
Vacancy rates have once again dipped below the threshold and rents are likely to rise once more in the next quarter.
Without more supply from inner city developers and less demand from migration and those who cannot afford to buy, the situation will only continue. A suburb of particular has been Ryde, in New South Wales which has recorded a year-to-date rise of 17% in rents.
Source: Australian Financial Review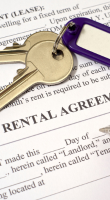 Develop or Sell
Dan Andrews stepped down as Victorian Premier last month and his replacement is keen to make a name for herself.
Jacinta Allan's government has now widened the vacant land tax to include areas outside Melbourne and long-abandoned plots in the inner city.
The tax now applies to residential properties which are unoccupied for more than six months a year in the hope that homeowners will either develop the land or sell to someone who will.
Source: Australian Financial Review