At the time of writing, official auction results for the last weekend of August were unavailable, however preliminary reporting from CoreLogic shows a slight increase in volume, despite many cities still being impacted by lockdowns. Somewhat surprisingly, Melbourne had the most auctions for the week with 1,185 despite their lockdown, however, the clearance rate was significantly impacted recording just 34.7%. Sydney on the other hand recorded 598 auctions with a strong clearance rate of 82.7%, followed by Adelaide with 172 auctions with an impressive 81.3% clearance rate. Brisbane was close behind with 161 auctions and a clearance rate of 71.8% and Canberra with 114 auctions for a 63.2% clearance rate. Whilst clearance rates were down to a weighted average of 55.4% for the weekend, this was largely impacted by the imposed restrictions across New South Wales and Victoria.
The recent lockdowns have impacted the number of properties going to auction; however, the CoreLogic Daily Home Value Index continues to show positive growth with all of the five capital cities recording growth for day on day, quarter on quarter and year on year. Sydney and Brisbane lead the way achieving 6.45% and 6.19% growth for the quarter respectively, contributing to a 5.09% 5 city aggregate, and 20.91% and 19.79% respectively for the year, followed by Adelaide and Melbourne recording 17.86% and 13.07% respectively for a 17.24% 5 city aggregate.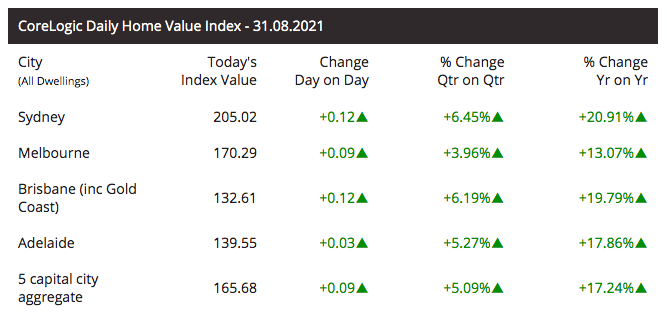 The unit price across all three retail funds remains stable at $1.00 and our loan originations remain strong although we are seeing increasing competitiveness on lending rates across the market in the private lending space. As a result ASCF continues to review and monitor the interest rates on offer to our investors. It is our expectation that upon completion of our review interest rates across our retail investment funds may be reduced slightly to ensure we remain competitive in the short-term lending market.
This article appeared in our August 2021 Investor Newsletter – download the full newsletter here.