Christmas has come early for ASCF with an exciting move taking place this week as we move to a larger office space to accommodate the ever-expanding ASCF team. The new physical office address will be updated in the coming days as ASCF move into Level 1, 50 Park Road Milton QLD 4064.
As anticipated, November resulted in another strong month of new loan originations with $12.78 million in new loans occurring across the retail funds, well above the results recorded in November 2020 contributing to just over $149 million in loans in 2021. Current weighted Loan-to-valuation ratios (LVR) across the three funds remain low with 52.62% in Premium Capital, 65.51% in Select Income and 68.20% In High Yield.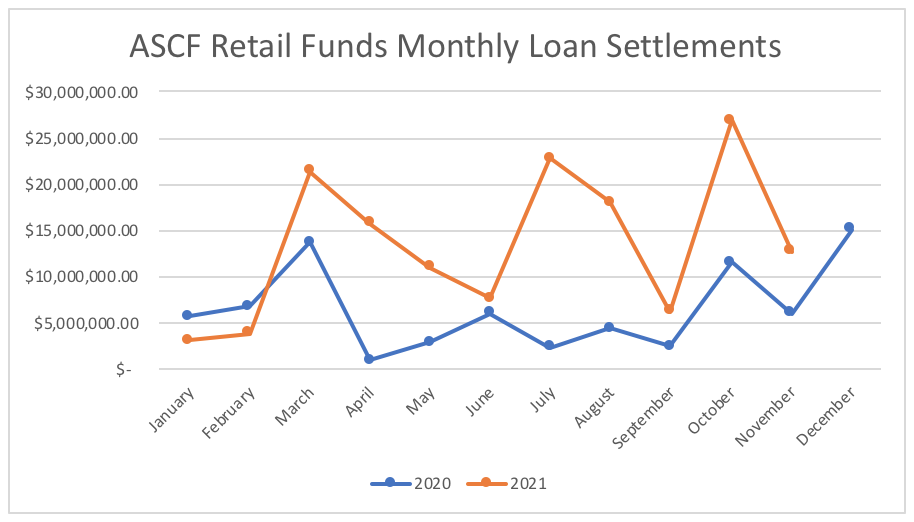 As we enter the holiday period, we anticipate similar results in December in what should result in well over $150 million being written across the retail funds in the 2021 calendar year. In a strong sign for the lending market, we are still receiving a greater number of loan inquiries than we are currently able to fund and continue to seek further investment from new and existing clients. In November, we received a net increase of over $3.58 million across our retail funds, for a combined Funds Under Management (FUM) of over $188 million.
On the back of soaring property prices, the last weekend of November recorded the most auctions since CoreLogic records commenced in 2008, with 4,261 homes going to auction, the first time that more than 4,000 auctions have occurred in a single weekend. Melbourne held the largest number of auctions with 1,891 followed by Sydney with 1,577, with both cities recording significantly more on the 909 and 886 respectively for the same weekend in 2020. Adelaide (299), Brisbane (256), Canberra (184) and Perth (52) all recorded more auctions than the same weekend in 2020.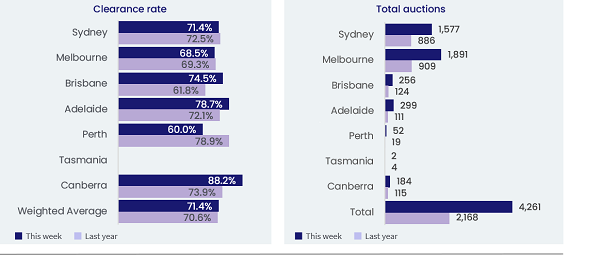 Whilst total auction numbers were up, clearance rates were slightly down, yet still strong with a combined 71.4% clearance rate across the capitals. Clearance rates in Canberra remained strong with 88.2% followed by Adelaide (78.7%), Brisbane (74.5%) and Sydney (71.4%). Melbourne and Perth recorded the lowest clearance rates with 68.5% and 60% respectively.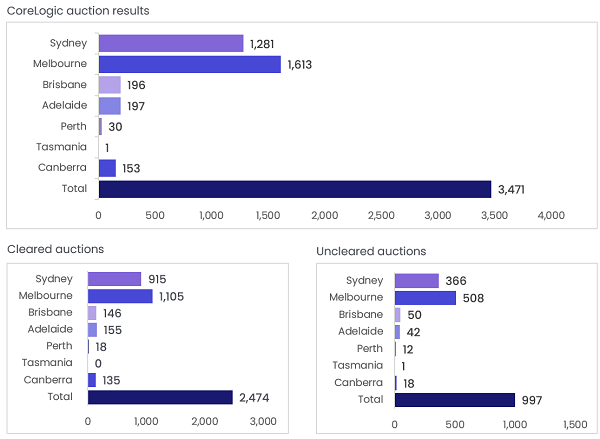 The Unit Price across all three funds remains unchanged at $1.00 per unit.
This article appeared in our November 2021 Investor Newsletter – download the full newsletter here.